VMSI is proud to announce that we are honored to become a Platinum Medallion Award recipient with the HIRE Vets program, a new initiative being championed by the Department of Labor.
The Honoring Investments in Recruiting and Employing American Military Veterans Act of 2017 (HIRE Vets Act), established a program to recognize employers who hire and retain veterans, including their efforts to establish employee development programs and veteran-specific benefits to improve retention.
As a Service-Disabled Veteran-Owned Small Business, VMSI recognizes the valuable skills that our military veterans bring to the workplace, including leadership qualities, a strong sense of focus and teamwork, and a dedication to getting the job done. These qualities – and more – make veterans a perfect fit for VMSI as they live and breathe our vision of being the "Best Decision Our Clients Make!" VMSI is committed to providing our veterans with a workplace environment that appreciates and values their past and present military contributions from the moment an individual seeks employment with the company right through to their last day of employment. VMSI embraces our military family and for the past five years, year after year, nearly 30% of our new hires have been veterans!
Everyone at VMSI looks forward to our continued support of veterans in our workforce, and in the communities in which they live and serve.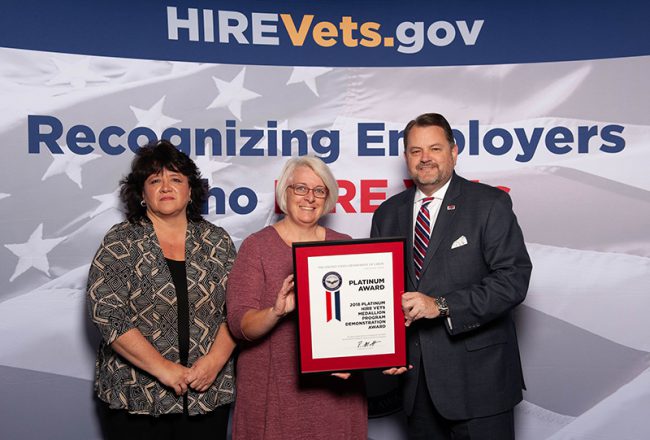 L to R: Maria Morales-Hankins (VMSI) and Katherine Hansen (VMSI) with Mr. Matthew Miller, Deputy Assistant Secretary, Policy for the Office of the Assistant Secretary for Veterans' Employment and Training (OASVET) | Photo Credit: KevinKennedy.com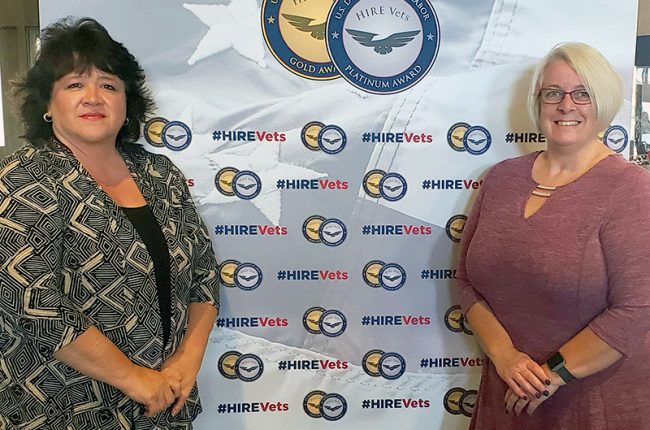 VMSI's HR team members, Maria Morales Hankins (left) and Katherine Hansen (right) at the Department of Labor's HIRE Vets award ceremony, November 8, 2018.