At VMSI, our employees are what make us valuable. In order to connect with our customers and employees near and far, VMSI is engaging in a social media web series introducing our headquarters staff to the world. With random interview questions, you're sure to learn something new and interesting about those working in the corporate office!
---
Get to Know HQ: Heather
Heather Earley is VMSI's beloved Operations Specialist-turned-Program Manager. She's been a pa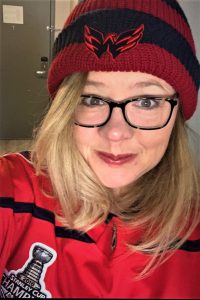 rt of the VMSI Family since November 2015, when she came in as our dedicated Operations Specialist. Because of her can-do attitude and ability to learn practically anything, she was quickly promoted to Senior Project Analyst, and in 2019 became our in-house Program Manager and a valuable part of our Program Management Organization (PMO). Heather is responsible for providing contract oversight, program management, and PMO support to ensure VMSI's customer engagements achieve 100% mission success.  

Heather was born April 12 in Grand Rapids, Michigan and currently resides in Sterling, Virginia with her husband, two teenage sons, 110-pound rescue dog, and much smaller rescue cat and bunny. Heather can often be found working crazy hours, planning her next travel adventure, bourbon tasting (let's be honest – pouring bourbon in almost unreasonable amounts!), or cheering on her Washington Capitals (LETS GO CAPS!) Thanks, Heather, for all you do – our VMSI Family wouldn't be complete without you! 
 Random Facts 
What was your first job?  
Bussing tables at the restaurant at Wolf Trap National Park for the Performing Arts 
What TV Show could you binge watch?  
The Office.  It's just as good the 20th time you watch it as it was the first. 
What is your favorite breakfast food?  
Coffee is essential and I'm a sucker for good home fries. Not hash browns… Home fries.  BIG DIFFERENCE.   
What is your most used emoji? 
Crying/laughing and facepalm, in almost equal amounts.  
If you could only eat one meal for the rest of your life, what would it be? 
Thai Drunken Noodles  
What are three items you'd take with you on a deserted island? 
Sunscreen (Kiss Me, I'm Irish!), bugspray, and a satellite phone to invite people to join me once I got tired of the peace and quiet. 
What job at VMSI HQ would you be terrible at and why? 
Jackie's role as VP/FSO, hands down!  Her brain is an absolute machine, which is required in order to successfully manage and accomplish the level of responsibility and competing deadlines.  And don't even get me started on her spreadsheet magic…hats off to you, Jackie! 
At which store would you like to max-out a credit card? 
Home Depot/Lowes. We basically live outside when the weather allows it and could easily spend too much on outdoor furniture/décor, grill/smoker, and materials to build a tiki bar. (Pssst…Heather…we're waiting for our invite! 😉 ) 
Toilet Paper: over or under? I have two teenage boys, so I'm just happy if someone replaces the roll!