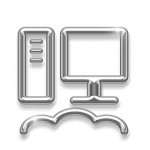 VMSI provides practical, innovative Information Technology solutions and services to maximize our clients' ability to meet mission objectives. Our experienced and talented personnel develop, maintain, and enhance government and commercial IT systems with solutions tailored to meet each project's unique requirements. Our quality management principles ensure each project receives continuous review and improvement, and identifies and mitigates small issues before they become major project risks.
We work closely with our customers to improve information security and systems availability and streamline work processes. In this way, we are able to reduce operating costs, improve efficiency, and deliver results.
Our Offerings:
IT Staff Augmentation: We are industry leaders in sourcing technical experts to supplement our customer's IT needs, including surge support staffing. We place pre-screened, fully capable, and qualified IT professionals, many with advanced certifications.
Application Development & Support:  VMSI employs leading-edge technologies to develop, install, and maintain mission-critical systems throughout the federal government. Our customer-centric focus is on information security, reliability, and cost effectiveness.
Cloud Computing:  VMSI understands the unique security and policy needs associated with transitioning government IT infrastructure to the cloud. Our experts have the hands-on experience leveraging the secure, highly available and scalable cloud environment to realize cost savings and efficiencies for our customers.
Website Design, Development and Content Management: Our team of expert designers and developers assist with website design and development, message strategy, and content management to meet the unique needs and mission focus of the federal marketplace. Our successful history with integrated communications helps build stakeholder support and focus target audiences on mission objectives.
Big Data/Business Intelligence:  We provide the innovative solutions that our customers need to address complex analytical challenges and effectively work with large datasets.  Our solutions help our customers understand and analyze vast quantities of data, optimize performance, and promote effective decision making strategies.
IT Helpdesk Services:  VMSI provides U.S. based and staffed, customized Help Desk support using ITIL-based best practices for organizations of all sizes. Our skilled technical support personnel are highly qualitied to provide comprehensive Tier I – III level IT service desk support.