Our employees are what make VMSI truly valuable.  As a Service-Disabled Veteran-Owned Small Business, we take immense pride in recognizing and celebrating our veteran employees for their service to our country and for their contributions to VMSI.  We are excited to feature Eric Heaton in this month's Veteran Spotlight.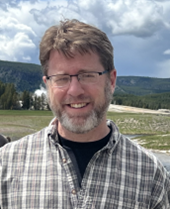 Eric Heaton, a Senior Procurement Analyst, has been a member of the VMSI family for over a year.  He supports the National Oceanic and Atmospheric Administration's (NOAA) Acquisition and Grants Office (AGO) Policy and Oversight Division (POD).  Among his numerous responsibilities, Eric provides audit program support to the Program Manager, reviews AGO contracting records with compliance with regulations, and conducts acquisition research.
With 22 years dedicated to the Airforce and Airforce Reserves, Eric reached the rank of Chief Master Sergeant.  He comes from a long line of family members, dating back to the American Civil War, who also served in the military.  Eric followed in their footsteps, deciding to join the military to fulfill his desire to seek adventure and find purpose.
Throughout his tenure in the Air Force, Eric held a variety of roles and embarked on numerous overseas deployments.  Among his various assignments, his most enjoyable was working for the War Reserve Material Program in Oman.  One memorable experience from this time involved a meal at a local café, where an order for an egg roll turned out to be a boiled egg on a buttered roll.  This taught Eric a valuable life lesson – Do not make any assumptions.  Asking questions is never a bad idea.
Throughout his 22 years in the Air Force, Eric received a multitude of medals and awards.  These awards include the Bronze Star, the Defense Meritorious Service medal, and the Air Force Meritorious Service medal, which he earned three times.  Eric's achievements also earned him the ALS John Levitow and Leadership Awards, as well as the NOCA distinguished Graduate recognition.  His exceptional dedication was recognized through titles such as the MAJCOM Contingency Contracting Officer of the Year (2004), the MAJCOM Outstanding SNCO (2006), and Wing Outstanding SNCO (2009) awards.
When asked what he enjoyed most about his years in service, Eric shared, "Working as a team with various people, from all over, to accomplish an objective/purpose.  A close second is my time training and preparing Airmen to do their jobs in a deployed environment."
Drawing from his extensive experience, Eric has shared three tips for soon-to-be veterans:
Get a copy of all your medical records before you retire.
Take advantage of any transitioning programs your service has available.
Find someone to give you fashion advice. (It was a little painful for me to start choosing what I was going to wear to work.  Ouch, the memories.)
We thank Eric for his service and for sharing his experiences with VMSI!